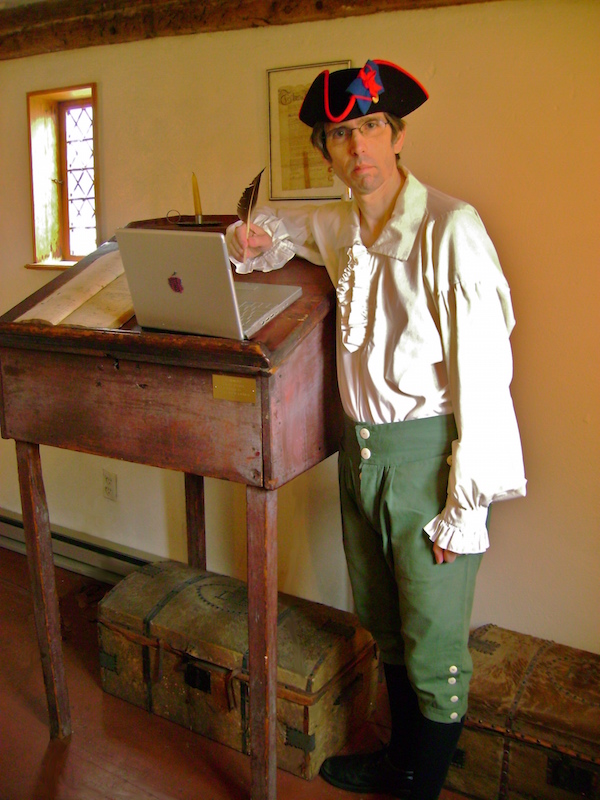 colonial writer with laptop
The Historic Milford community
In the time since Milford was founded less than 200 years after the Middle Ages, it has contributed to modern transportation with trains to submarines and communication through the telephone switchboard to computers taking time off to enjoy skiing.
The average person in the United States was born in 1980 so anything that happened before that is history to half of the population. Communication has changed drastically from when Native Americans were discovered by Europeans only 40 years after the printing press. News or announcements when the town was founded in the 1600's would have been spread by the Town Cryer on Milford's town green or in taverns. Freedom of the press has annoyed public officials ever since Benjamin Franklin and his brother were among the first in colonial America to publish weekly or monthly papers in the 1700's. Before that someone might ride on horseback from town to town or republish month old news. Many people today prefer the immediacy of getting their information online over the daily newspaper. The good news is you can find almost anything online, the bad news is you can find almost anything online.
To counter fictional tales we present many true Milford historic stories along with timelines to help glimpse the perspective of the people from the time of the event. We correct fabrications, embellishments or fanciful tales when we become aware of better documentation. This site located rare photos including President Kennedy in front of a White House fireplace believed to be of Milford marble and a poster for a 1916 movie shot in Milford that no longer exists were located.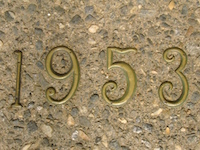 crafted sidewalk
click to see detail We used a scientific approach towards researching history of peer-reviewing between multiple sources as close to the original stories for agreements. We have verified these stories with other independent historians beyond what was available from the 2 dozen history based groups in Milford. We seek to set a high standard in our research and asking permission to use of materials such as photos we did not create. This website shares the old fashioned values of crafting detailed work instead of Good Enough For Now. As recently as the last century people proudly put their name or the date on their work. even for mundane things as a sidewalk with contrasting colored decorative stones or tinted concrete. This site is a starting point for visitors to explore interesting topics. Interpretation opinions are highlighted with a slightly different look. We encourage visitors to have a lifelong curiosity that when asking questions to first ask themselves whether they know enough about a particular topic to understand the answer by an expert.