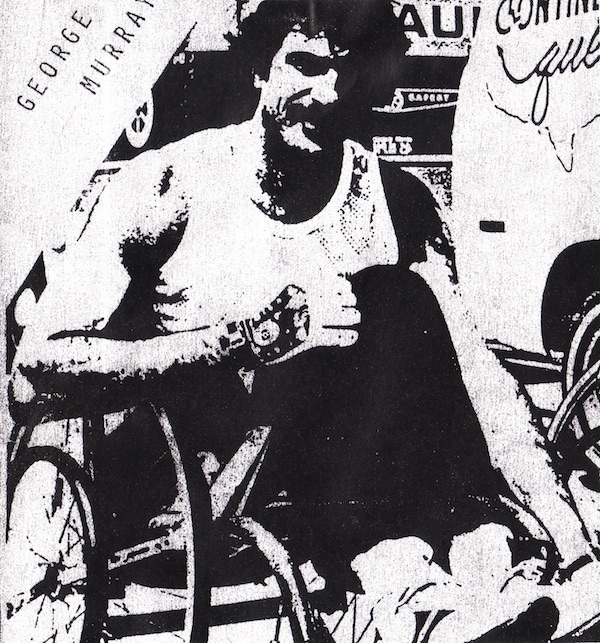 Dear Meg,
How come there aren't any disabled athletes on the Wheaties boxes?
Carol
Dear Carol,
You know, at first this question struck me very funny, and I left myself a bit silly over it. But I have since been made to realize that you're serious. There really is a Wheaties Search for Champions contest, and with enough votes for disabled athlete, we could pull it off!
I want to thank you for bringing this to my attention (though this very pointless question … and for sharing the biographical information with my readers about George Murray. During 1981, the International Year of Disabled Persons, George and fellow wheelchair athlete, Phil Carpenter, pushed across the continental U.S. and its first historical crossing of America by an arm powered wheelchair – Los Angeles to the United Nations, in New York City.
George has not only been involved in wheelchair sports but works actively as a lecturer and advocate for the education of the public ABILITIES of the disabled community. He serves as narrator and adviser on the University of Florida's federally funded, 14 part series on public law 94–142: PROJECT I'M SPECIAL.
Actively promoting physical fitness for everyone INCLUDING the disabled, George is a well respected and accomplished athlete.
In addition he has been:
A wheelchair athlete for the past 20 years;
National Wheelchair Marathon Winner 1978;
World Wheelchair Marathon Champion 1981;
Easter Seals Sports Council Member and Consumer Advocate;
President. International Wheelchair Road Racers Club, 1981;
Physical Education graduate, University of South Florida;
Outstanding Amateur Athlete of the Year, State of Florida - first disabled athlete so honored;
Featured on Real People, Games People Play, Good Morning America, NBC and ABC Evening News, Time, People
Racer's Club, Inc. is soliciting votes and support for their nominee in the Wheaties Search for Champions George Murray, world-famous marathoner and road racer. (They need your vote!)
Of course, there is a catch. In order to cast your ballot for George you must buy a specially-marked box of this particular brand of cereal for an "official ballot." Vote as many times as you like by July 15. One ballot per box; One vote per ballot. You know, I met George when he wheeled into Milford that year. He's kind of cute. Funny thing … I've suddenly got a craving for Wheaties …
Meg's column and publicity from other people in the disabilities community urged people to submit George Murphy's name in. This resulted with him becaming the first handicapped athlete to appear on a Wheaties box. Another handicapped athlete, Sharon Hedrick, who had won 2 gold medals in the 1984 summer Olympic games was passed over the same year. There does not seem to have been any others to grace the packaging.
Very few companies have featured testimonials by disabled people in ads. In those cases, their advertising agencies did not plan to feature them but used people that wrote to the company that also happened to have a disability. In recent years, more ads have been more inclusive to tap into this often hidden portion of the the population, mostly for cleaning products and a sleepng tablet for the blind.