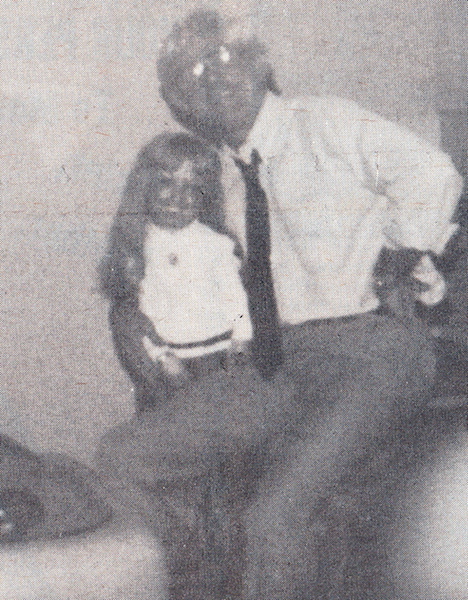 Meg Casey with Phil Donahue

I've heard a lot of talk for the past years about how unaware the American public is of what goes on in the world around them. While that may, (for the most part) be true, I can attest from personal experience that they all (for the most part) watch the Phil Donahue show.

Through a highly publicized account last fall of a special meeting of two little boys in California's Disneyland Disneyland and the surprise arrival of two females on the scene, I was asked to appear on the Donahue Donahue show in Chicago this past February.

The weekend was so sensational because the four of us Francsie Geringer of South Africa, Mickey haze of Texas, Alysia Gowan of California and I, Meg Casey of Milford, all have the same rare condition that has come to be known as Progeria. It is more accurately titled Hutchinson–Guilford Progeria syndrome after the European doctors that first documented it in the 1800s.

When the story first broke in late August and early September 1981, at Fransie and Mickey were billed as the only two living "victims."

When a tiny 12-year-old up from San Jose showed up it was thought to be a wonderful miracle. When an old dinosaur (me) came sauntering out of Connecticut, all hell broke loose.

On my return from the wildly acclaimed weekend in Mickey Mouseville, I was met with the message that the producer of the Donahue Show had called and would like to discuss the possibility of my making an appearance on the show.

About this time I was began to get uptight because it seems that every time I open my mouth, I was being quoted in the press.

The taping was to take place on February 8 with guests Mickey Hayes, Cindy Edwards, Dr. Dorothy Valee from Boston Children's Hospital, Rabbi and Mrs. Harold Kushner whose progeriatric son had died at 14, and myself. We were interviewed by the dashing, ever popular Mr. Donahue (I call him Phil) and his audience.

My sister-in-law Maureen who was an absolute brick through the whole thing, accompanied me everywhere. We landed in Chicago greeted by freezing temperatures and a frolicking Mickey Hayes who tried to play with the frozen snow while impatiently awaiting our arrival; we were holding up lunch!

The next morning we were whisked to to the studio which was a mass of people buzzing around, the center of which was a guy with a loosely tucked in shirt with the sleeves rolled up. We heard the unmistakable demanding voice of Mickey demanding to know who he was.

Donahue stood with his arms akimbo, looking down at this pint site size gestapo and answered "I'm the guy that you came to see. Don't you know the name of the show you're going to be on?"

Mickey, bold little tart, said "I never heard of it!"

During our briefing from the producer, Mickey demanded to know if he could hold the microphone.

He was told in a patronizing tone, "We don't use those kinds of microphones, Mickey. We'll just clip one on the front of your shirt. Would that be alright?"

"No," he fired back. "If I can't hold a mike I won't wear one. Do you have a makeup lady?"

"No," she nervously asked, "Do you need one?"

"All the other shows have them!" he retorted.

Had I been his mother I would've stuffed him into one of those Chicago snow banks he was so interested in. All the bravado turned to panic when the set director walked in with several stopwatches around her neck. Mickey thought she was there to take blood and began to react accordingly. It was a glimpse of the trauma of the "special child" who has endured constant medical examinations.

In my opinion this was Phil Donahue's finest hour. In that green room, before the show began, with no audience, no cameras, he met with a little spitfire and bantered with him to the point where Mickey was eating out of his hand.

And when the little boy turned into a shaking of fright, he took him into his arms with genuine concern and affection. He kissed Mickey on the top of his head and massaged his tiny back until his fears melted away.

Needless to say Mickey got his own mike to hold and even his own make-up lady, but the demanding little boy we first met was nowhere to be seen. He followed Donahue around like a puppy.

The taping went off without a hitch. We went back and talked for a little bit and took pictures of each other with the "star" for everyone back home to envy.

I'm recognized everywhere I go now. Women in department stores come to me and say, "You're her, right? I knew it. Merv Griffin!" Dinner gets paid for me in restaurants by strangers who call me by name. Bar tabs for my entire party been picked up anonymously. I get fan mail from all over the country. I get asked asked for my autograph (they're serious!). It's done wonders for my salesmanship abilities. The crew on a plane I took to England last March knew who I was because they saw me on the Donahue show. I couldn't take enough coffee, tea, or milk to suit them; they drove me crazy.

Every race creed color and financial bracket views that program in the morning. I know. I've met them!

Donahue is dynamic and even better looking in person. He Is every bit as charming on camera and off. He had my number to the second he laid eyes on me because he never let up. As he helped me on with my jacket he flicked my lapel with his forefinger and asked "What radical cause is this pin for?"

Phil Donahue was a very nice man.

My life hasn't been the same since we met.


When Meg was on the Sally Jesse Raphael show, she was asked if her 6 older brothers were normal. Meg's response was "No, they're taller!"