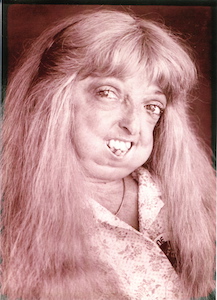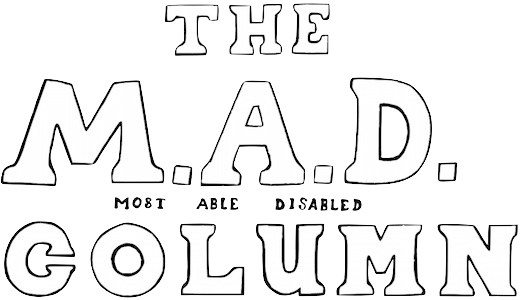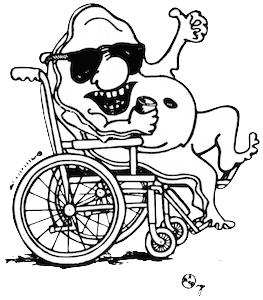 "Most Able Disabled"
Meg Casey's handicapped issues column
about Meg

handicap attitude

Acceptance

abilities

housing and care

Speaking up for oneself

Employing the handicapped

parking

being active

celebrations

advocacy

advice

final thoughts
Unpublished notes
Meg Casey
unpublished
I have always wondered what it would be like if I never had my sight. Has anyone ever described that feeling to you?
I have read a few articles regarding the establishment of group homes for the disabled in a community where they might live together in somewhat monitored secure like home like situation in family neighborhoods. I think this is a marvelous idea! I have difficulty believing that anyone could vehemently oppose a project of this kind starting up in his his/her community. What is so frightening!
… on their knees and talk to me like I am a two year old. Do you know how mad I get? I'm not two I'm fourteen years old! I'm sick to death of being treated this way by grownups, teachers and kids. I cry when I go home and that makes me even more mad at I myself. It's not my fault I'm handicapped.
Patience must also be learned and I believe that this was hardest of all virtues for me to practice. Good moods are not constant with anyone and some days, running ignorant people over with a wheelchair may sound like fun, but it will never pay off any positive benefits in the long run. So remember that, smile, and try a little reverse patience for a change!

Society is not ready for me yet!

Dear Meg,

Three years ago I injured my spinal cord in an automobile accident and instantly joined the ranks of the wheelchair brigade, permanently. I was 18 then.

During those three years I had been we have I had been rehabilitated physically, emotionally, vocationally and trained for my maximum independent living skills potential. Supposedly I am a made packet for re-entry into a society's mainstream. Supposedly … but, I don't think that society is ready for me yet!

No one prepared me for dealing with the "moron" label that seems to have been given to me along with my new wheels. People don't ever talk directly to me unless there's no other option. The ask the person I am with what I would like? Or if I am having a good time. They look all around for my keeper if I appear before them on my own.

I also don't have a speech problem. It has often been come commented that I have a very deep and clear voice and would make a great radio announcer, yet I've often had to repeat my words over and over to the people who are waiting on me as if I spoke unintelligible garble …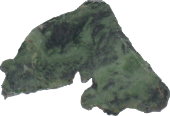 Memorable Milford regrets that a political dispute has made it necessary to complete this project without the cooperation of a
claimant
to the original columns
The original author disdained those only seeking to profit from tragedies.
We did not feel that a disagreement should prevent the public from learning and enjoying these incredible pieces of advice and show they are still relevant to today.