Home
Details

Written by Daniel Ortoleva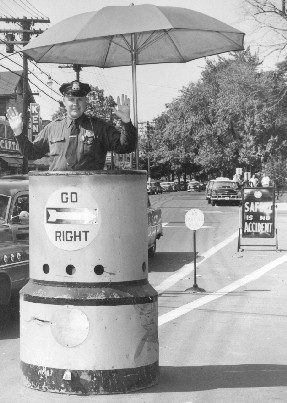 Milford Cop in a Bucket
courtesy Milford Police Department
Immigrant Vandals to cop bucket
In Milford Connecticut, second generation immigrant boys terrorized by setting fire/committing arson to the friendly Milford Indians fort in 1671. The boys involved included the son of the former Indian fighter that led the way to Milford in 1639, the sons of the town deacon. To make amends, town leaders gave back the Oyster River section of the town that had previously been part of their original agreement between the natives and the Europeans.
The 1600's punishment for gossip was locking violators in a stand up pillory on the green. Besides the public embarrassment, misbehaving boys sometimes tickled the bare feet of offenders sitting in the stocks. Many people these days sharing unverified tales of others on social media would be found guilty of this offense.
In 1860 the Milford police force was expanded from 2 to 5 officers. A lightweight fight was scheduled for April 12, 1870 on Charles Island with riots erupting in Milford when one contestant didn't show due to bad weather. Militiamen traveled from New Haven by train and made most arrests as people came ashore from the sandbar connecting the island. October 8, 1906 arrests were for Sunday liquor laws when 10 motorists were ticketed for going faster than the 15 MPH limit. Milford's Police board passed a regulation in 1921 barring women or men bathing suits unless they covered the knees. Daniel Wasson was Milford's 1st Police officer killed in the early morning of April 12 1987.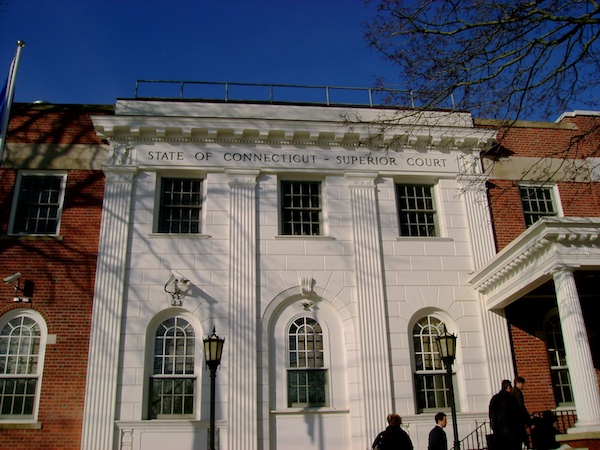 Milford Courthouse On March 27, 1937 the Milford Court, Office Building and Police Headquarters opened. For 40 years Milford's downtown police station with only 9 cells and a single toilet shared space with the courthouse. 2 weeks after the controversial 1971 arrest of Doris Gagnon, the Milford police union president cited low officer morale as a need for a new Police station. In response, acting Police Chief McAfee said:
"The right of free speech is enjoyed by policeman as well as others" But I didn't think something like that should be published".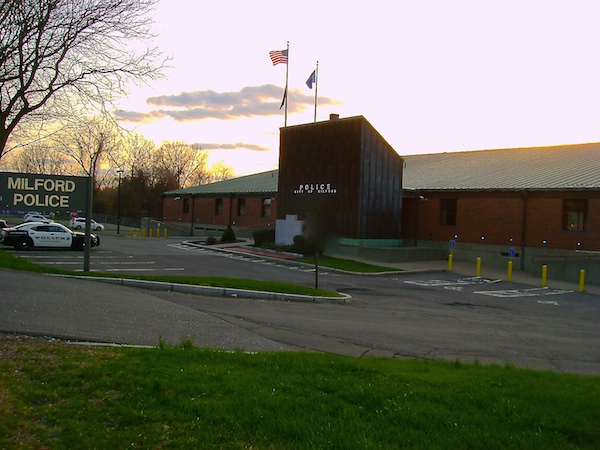 Milford Police Station 8 years later the Milford Police Department separated their headquarters from the Court to their own facility. Possible Police Station sites included the Fowler Building, before the library was built there, and the Platt orchard on North Street. To avoid traffic on secondary roads, the main thoroughfare of Route 1 next to public works was chosen. The city considered fining the contractor $100 a day over delays past the planned April 1 1979 opening. Ventilation issues allowed odors from a nearby leaky gas station tank to seep throughout the basement cell block. The Beard property further up the Post Road had been one prospective site in the 1970's and was chosen as a replacement headquarters in 2018.
New Haven's County High Sheriff Slavin created in 1934 the First Offender Club where kids promised to not get a criminal record. His message was broadcast nationally on radio, in Courage Comics and a bus of crime fighting and punishment equipment called Jail On Wheels. He stated:
Do you know that we in America have the largest jail and prison population in the world? That proves we don't spend money in the right place. We spend it at the top, creating large police departments and the agencies for the enforcement of law and order, while we neglected the bottom where crime starts.
Inspired by Father Flangan's Boy's Town, Slavin provided guidance to 16 homeless and boys with handicaps at Boy's Village in 1944. Most contemporary facilities believed in heavy discipline. His searched other towns before agreeing on 82 acres of Milford farmland for his vision. He passed in 1937 on acquiring land in Southbury that had been previously rejected by that town as the site of a proposed pro Germany youth training camp with uniformed guards. Damage to the Dominican buildings on Charles Island by the hurricane of 1938 was 2 days after announcing his grand idea. In 1971 Sheriff Slavin served eviction notices to Doris Gagnon.
Publishing police reports in the local newspaper in the 1970's embarrassed those considered by the law as innocent until proven guilty were judged in the court of public opinion complicating find impartial juries. An unintended aspect of the weekly Police Roundup was revealing embarrassing personal things about those reporting a crime such as identifying underage victims or a cranky neighbor complaining about a teenage band's 8 o'clock rehearsal before they become famous.
Cop in a Bucket
Sometimes called the tub, the "Cop in a Bucket" was a raised platform with sides for traffic policemen in downtown Milford. In 1951 police superintendant Arthur Harris was inspired by a similar traffic stand idea in Bridgeport. The bucket's original setup was an officer standing on a used industrial wire spool giving hand signals. Over time it was made more visible with the addition of sheet metal sides with a split rubber hose topping to prevent snags from ripping uniforms. A beach umbrella provided limited shielding from inclement weather. Winter limited how long an officer could work in the bucket to a half hour, blowing a metal whistle in 20 degrees weather was unbearable. Although it rolled down the street several times when hit, in each incident the officer escaped serious harm.
In its later years, one suggested replacement by a member of the public was a heated elevated glass booth to shield against the wind. Double parking in front of a pair of River Street news stands was no longer allowed when this holdover from a simpler time was replaced by a traffic light. The switchover was delayed a month to mid-January 1973 to avoid interfering with holiday shopping.