Home
Details

Written by Daniel Ortoleva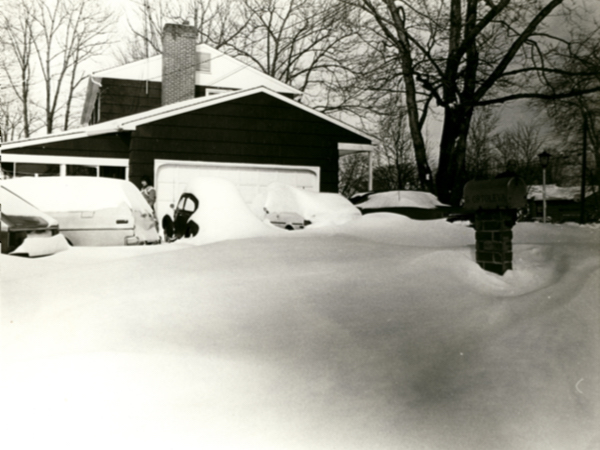 1978 blizzard
Storms
Being a shoreline community, Milford has literally weathered it's share of storms. A frequent sight were cars stalled in the flooded downtown railroad underpasses, sometimes to their roof. Debris from the Hurricane of 1938 was used as fill in part of Milford harbor to create Fowler Field. In early 1982 it was stated at the Conservation Commission that 50 percent of the town's flood plains that act as a "natural sponge" to control excess rain had been filled in since 1900. Despite warnings, Milford's library was built on the former harborside after the town rejected it as the favored site for a new Police Department with the cells in the basement.
The Wepawaug overflowed its banks during a June 5th and 6th 1982 rainstorm. Muddy waters poured into the library through a ventilation window next where an antique Tiffany window had recently been stored behind the furnace before returned to the original Taylor Library. Although the basement vault in City Hall had 8 feet of water, employees were able to be paid that week due to the blank checks mistakenly stored elsewhere. However, tax bills and historic documents from the 1976 bicentennial floated through the closed downtown streets. Vital records and library books were put in a donated freezer to prevent mold before thawing upright while fanning the pages. The data processing department had moved out of the basement after a 1968 flood and had tape backups. City Hall's original 1916 boiler had to be replaced which fortunately, the aldermen had recently put off purchasing a new one. Travel across the city was blocked by the flooded roads and collapsed bridges including the small footbridge behind City Hall and a handicapped ramp at Walnut beach. The show was still scheduled to go on under the tents of the circus across town and a stereo store held a flood sale.
The Great New England hurricane of 1938 hitting the shoreline on September 21 tested the Wepawaug Duck Pond flood control walls that were completed 3 years earlier on October 31, 1935. A 80 MPH storm hit the coastline again in 1950. The destruction by 1955's Hurricane Diane to the Milford shore on it's path through the Naugatuck Valley eventually led to the creation of Silver Sands Park. The 1978 blizzard of February 6 to 7 forced roads to be closed for three days under feet of snow. The coastline was battered again by Hurricane Gloria in 1985. Power was out for many days when Hurricane Irene in Sept. 2011 caused extensive damage along the shoreline.